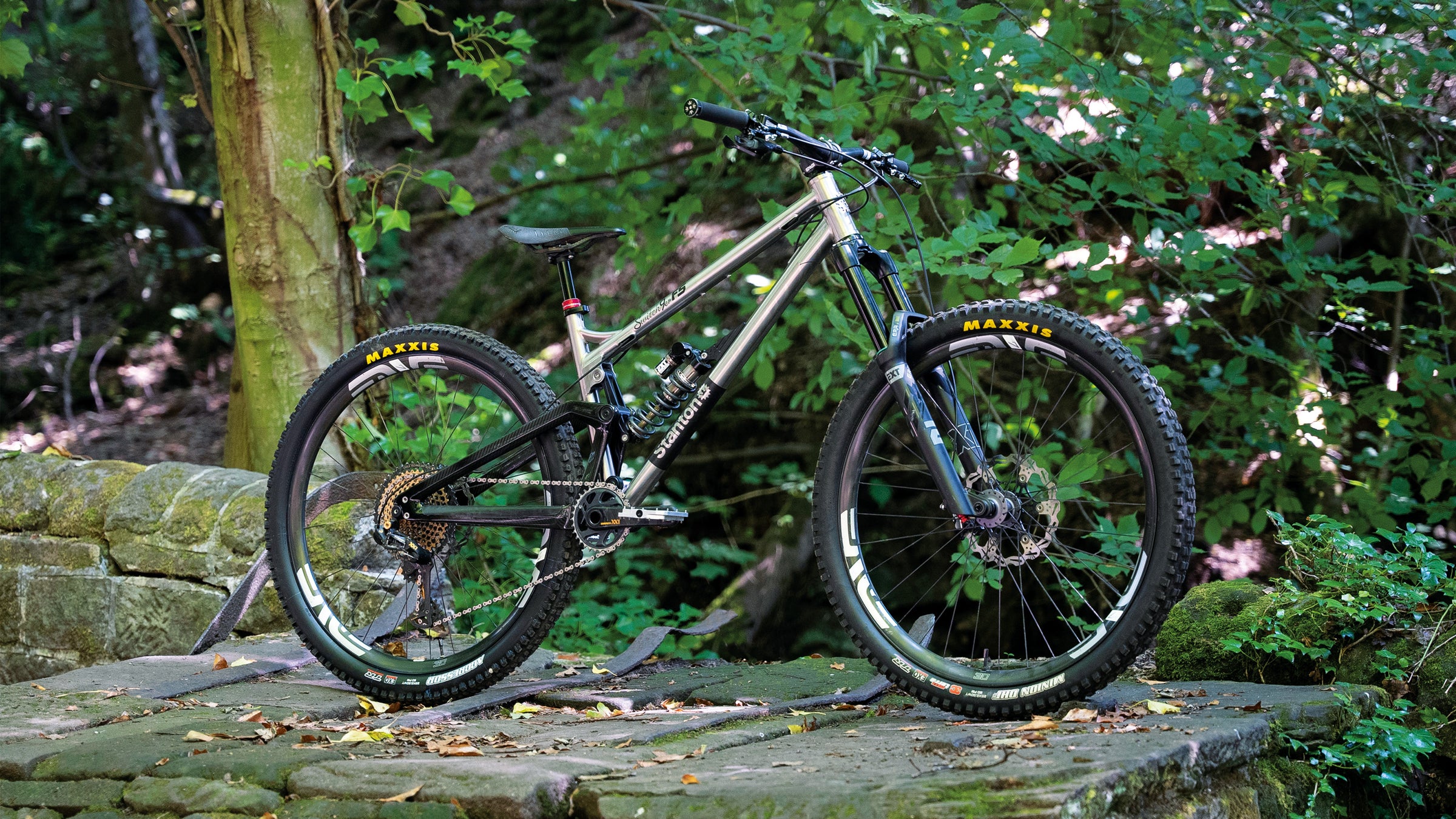 THIS IS EVERYTHING. EVERYTHING WE KNOW, EVERYTHING WE BELIEVE, AND IT MEANS YOU CAN DO EVERYTHING YOU COULD POSSIBLY WANT.
The Switch9er FS Ti is the culmination of our journey so far it's a bike that feels like no other and looks like no other. Built to a philosophy not a retail price point, it's the ultimate expression of our Positive Engineering approach to creating the most playful bikes on the planet. With a titanium front triangle and carbon rear, it's a potent alchemy of outstanding materials, exquisite engineering and uncompromising attitude that combine to cast a spell.
The Switch9er FS Ti – our phenomenal-feeling, all-out enduro machine.
LESS FLEX = MORE FORWARDS
The feeling starts with instantaneous acceleration. We're obsessed with eliminating the lateral flex created by your pedalling effort, which becomes a particular challenge when full-suspension introduces so many moving parts.
Having a front triangle made from triple-butted, aerospace-grade titanium allows us maximise the lateral bracing but with minimal weight gain (16.5" weighs 1.62kg, 18" weighs 1.68kg). Add in the superlative feel of titanium and it all combines to create a magically responsive ride.
Likewise the single-piece carbon rear triangle, meticulously developed through our partnership with experts from the world of F1 racing. Utilising the benefits of unidirectional fibres it provides the perfect ratio of stiffness and lightness. And at a gravity-defying 650g, it saves 750g on the alloy version. There's also greater Q-factor clearance meaning you can run the featherweight, race-specific cranks this machine deserves. Tyre clearance is improved too, comfortably fit 2.5 inch rubber and harness all that traction you'll be putting down. When we say there's a purpose to everything with the Switch9er FS Ti, we mean it.
These two very special pieces of engineering are mated to each other via 'The Egg'. Our unique creation that combines the bottom bracket shell and lower pivot point. CNC'd from a single block of titanium because… you guessed it… stiffness.
TWO PIVOTS ARE BETTER THAN ONE
Our no-compromise approach means a more sophisticated dual-pivot is a must. The upper link of the suspension system is nestled into the meeting point of the top and seat tubes. Making it super solid and never going sideways. It eliminates the lateral flex associated with single-pivot systems that can place side load on the shock, creating stiction and heat that obviously affect its performance. There are also multiple benefits from having the virtual centre created by two pivot points. The high anti-squat means that when you put power into the pedals the rear wheel is driven into the ground, the benefits of that don't need explaining too much but it's one of the big reasons this bike climbs so beautifully and eliminates bob.
Another advantage is in the path it creates for the rear wheel. Instead of pivoting around one fixed lower point, and therefore getting kicked over every bump, the wheel will initially move backwards before going up and over obstacles. This superior bump absorption is further enhanced by the intelligent and progressive kinematics that make the shock both super supportive and bottomless on the big stuff.
We've created a kinematic curve that's as smooth as a fresh cut berm – from 2:45 to 1:55 for the technically minded out there. It means that, at first, the rear wheel moves plenty so you can float through the roots and rocks. The support then ramps up as you get deeper into the travel, slowing the movement of the rear wheel naturally. Not just relying on the shock compression (and ultimately its bumpstop) to do the work like a rudimentary single pivot system. This inbuilt progression means you can run a real big, linear air can or coil and experience a truly bottomless feeling.
All of which places less stress on the shock meaning it won't overheat and stop doing what it's supposed to, so you can stay cool and hit the big stuff with confidence. Everything really does become possible. It's also the reason we believe 140mm on the rear, paired with 160mm up front, is everything you could ever need on a 29er and keeps the Switch9er FS Ti as nimble and playful as it's smaller-wheeled relatives.
TIGHT SO YOU CAN GET LOOSE
All of this would count for nothing if it wasn't put together with extreme precision. The tolerances are super tight and we appreciate our manufacturing partners putting up with our OCD in making sure these standards are held. Bringing it all together are our bespoke pivot assemblies, built to withstand the notorious grit and filth of the Peak District with sealed bearings protected behind rotary seals keeping things clean and precise.
Every detail means you feel the detail of the trail and it all adds up to a beautifully quiet ride – this is a bike that doesn't need to shout. Its under-stated inner confidence means you can ride as loud as you like.
So is that everything? Well, as you can probably tell, we could talk about the Switch9er FS Ti for days but we're more than happy to let it speak for itself.
Talk to us about creating yours.
LINKS
The Switch9er FS – the steel version of our titanium trail slayer
VIDEO – Switch9er FS Ti Introduction by Dan Stanton
Features
3AL-2.5V titanium 44mm head tube, gusseted down tube and our super-sweet alloy head badge
Fully CNC'd bottom bracket shell and first linkage piece known as "the egg"
Custom CNC'd Swapout dropouts 12 x 148 Boost as Standard
Triple-butted 3AL-2.5V aerospace-grade custom drawn and profiled titanium tubing
31.6 stealth routing dropper-compatible seat tube (34.9 clamp)
Full internal routing takes full-length gear outer for consistent, weather-proof shifting
Linkage held together by 3 x 15mm diameter axles and 1 x 12 mm diameter axle.
Fully sealed bearings and rotary seals to withstand the conditions of UK weather
Custom layered carbon swing arm for maximised strength and stiffness to weight ratio
1Specially crafted kinematic suspension design optimising pedal efficiency and trail feedback