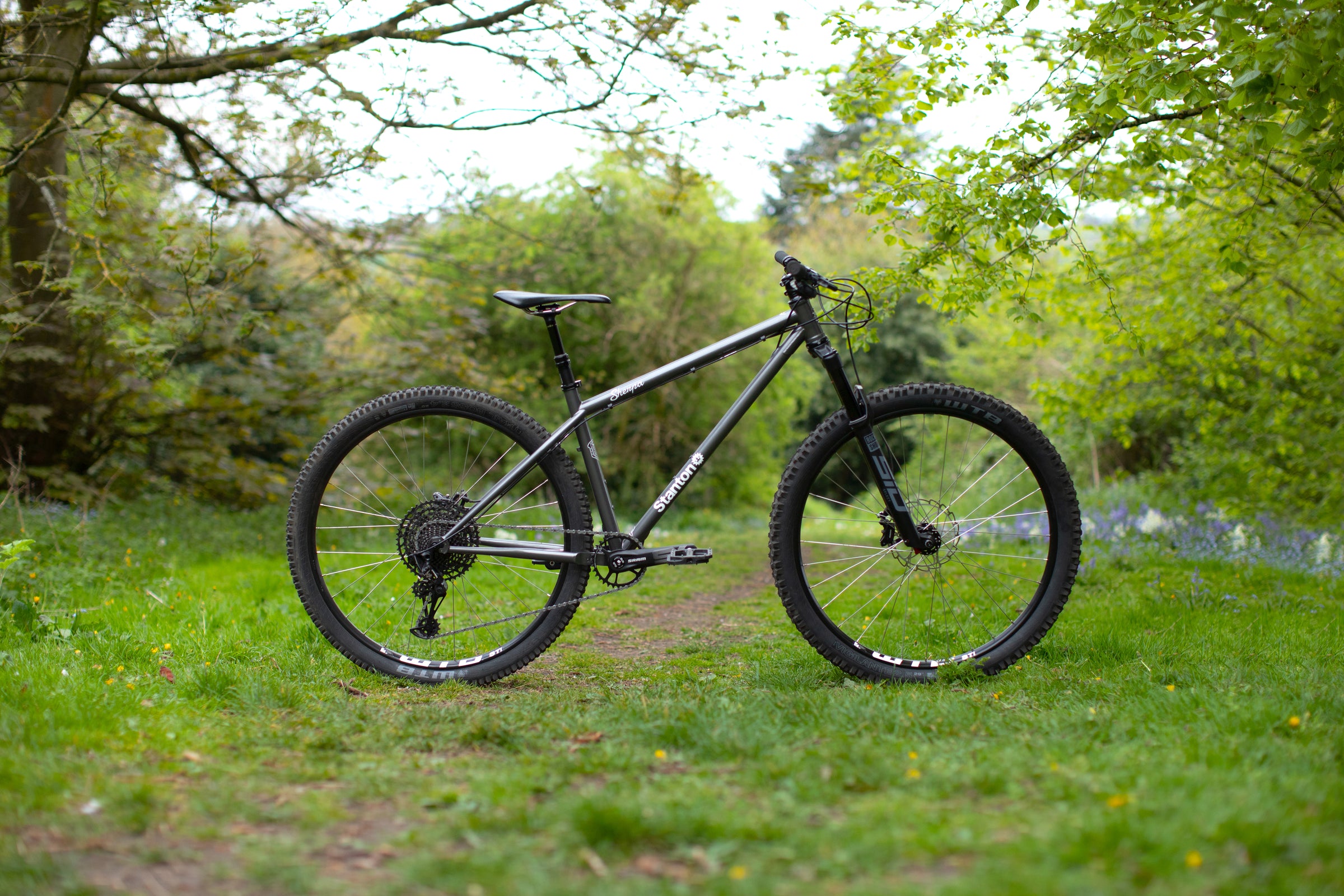 The Sherpa is the answer. Now what's the question?
Epic mile-muncher? Trail-centre hooligan? 29er XC race-weapon? 27.5+ bikepacking companion? Friend for life?
It would be quicker to say what bike you can't create from our most versatile frame. This is the bike that comes closest to disproving the rule of N+1 – choose the Sherpa and you'll never be left thinking, 'Maybe I should have gone for a … '.
The Sherpa is our do-what-you-like hardtail. This one's a keeper.
Positive Engineering
The Stanton Sherpa is a 29er that retains the grin-inducing playfulness of a smaller-wheeled machine thanks to our uncompromising commitment to 'Positive Engineering'. When new standards emerge we look for innovative engineering solutions that stay true to our principles, we don't compromise our geometry just to make things fit.
You'll see it here with the custom-designed yoke on the drive side. This lets us keep the chainstays super-short at just 435mm, provides lateral stiffness and allows for up to 2.5'' 29er or full 3'' 27.5+ tyres.
Regardless of whether you opt for the Taiwan-made 4130 or the UK-made Reynolds 853 version, the rear triangle is made from the same cold-worked Reynolds 525 tubing because of the perfect balance it gives between strength and flex.
All of which gives the Sherpa our signature whippy feel, responsive acceleration and awesome versatility.
We make the frame; you make it what it is
The geometry figures you see here are based on an all-rounder build with 120mm fork and take into account 25% sag. From here you can go either way – down to 100mm or even fully rigid for steeper head-angle XC vibes, or up to 130mm for those who like it rowdy.
Now in its third generation, the Sherpa is our most tightly-dialled offering – super-efficient and designed to harness every ounce of energy you put in. It's why it'll eat up the miles in comfort and always leave you smiling. And yes, just like any Sherpa, it loves a climb - which means you will too. It's the kind of bike that instantly makes you feel fitter and stronger, we reckon it's worth 3 months in the gym (disclaimer – no actual science was used in the generating of this fact).
When gravity gets involved this bike will back you up and let you hit the steep stuff with more confidence than you'll believe. All over the world there are full-sus bikes gathering dust because their owner is addicted to their Sherpa.
No-one likes being pigeonholed and the Sherpa is no different – you define it, not us.
We can't wait to see what you do with yours.
Watch Dan's Sherpa Gen3 Techtalk   
Features
Frame weight approximately 2.74kg (17" Model)
44mm head tube with custom CNC'd logo top tube brace, gusseted down tube and our super-sweet alloy head badge.
30.9 fully stealth routed dropper-compatible seat tube (34.9 clamp and front mech) feeds round the BB and into the down tube.
Triple-butted 4130 Chromoly or Reynolds 853 DZB seamless, air-hardened and heat-treated down tube and top tube. Custom-swaged and butted 4130 Chromoly or Reynolds 853 seamless, air-hardened heat-treated seat tube. Takes full-length gear outer for consistent, weather-proof shifting.
Short, tapered chainstays (435mm) made from cold-worked Reynolds 525.
Swopouts for 12×142 & 12×148 Boost
New custom drive side yoke creates spacing to fit 2.4″ 29er or full 3″ 27.5″+ tyres.
Recommend fork travel: 100mm - 120mm
Sherpa frame-only prices:
Asia-made 4130 steel / standard paint - £699
UK-made Reynolds 853 steel / standard paint - £999
Elite paint +£100
Heritage Wrap Decals +£100
Sherpas in stock now
Here are the fully finished frames we currently have in stock. These products are literally boxed up and ready to ship anywhere in the world within 2 working days from your order. Our stock is selling through quickly so if you don't see the finish that you'd like then just get in touch via email and tell us what you're looking for. We have plenty of raw frames in stock waiting to be painted just the way you want it!