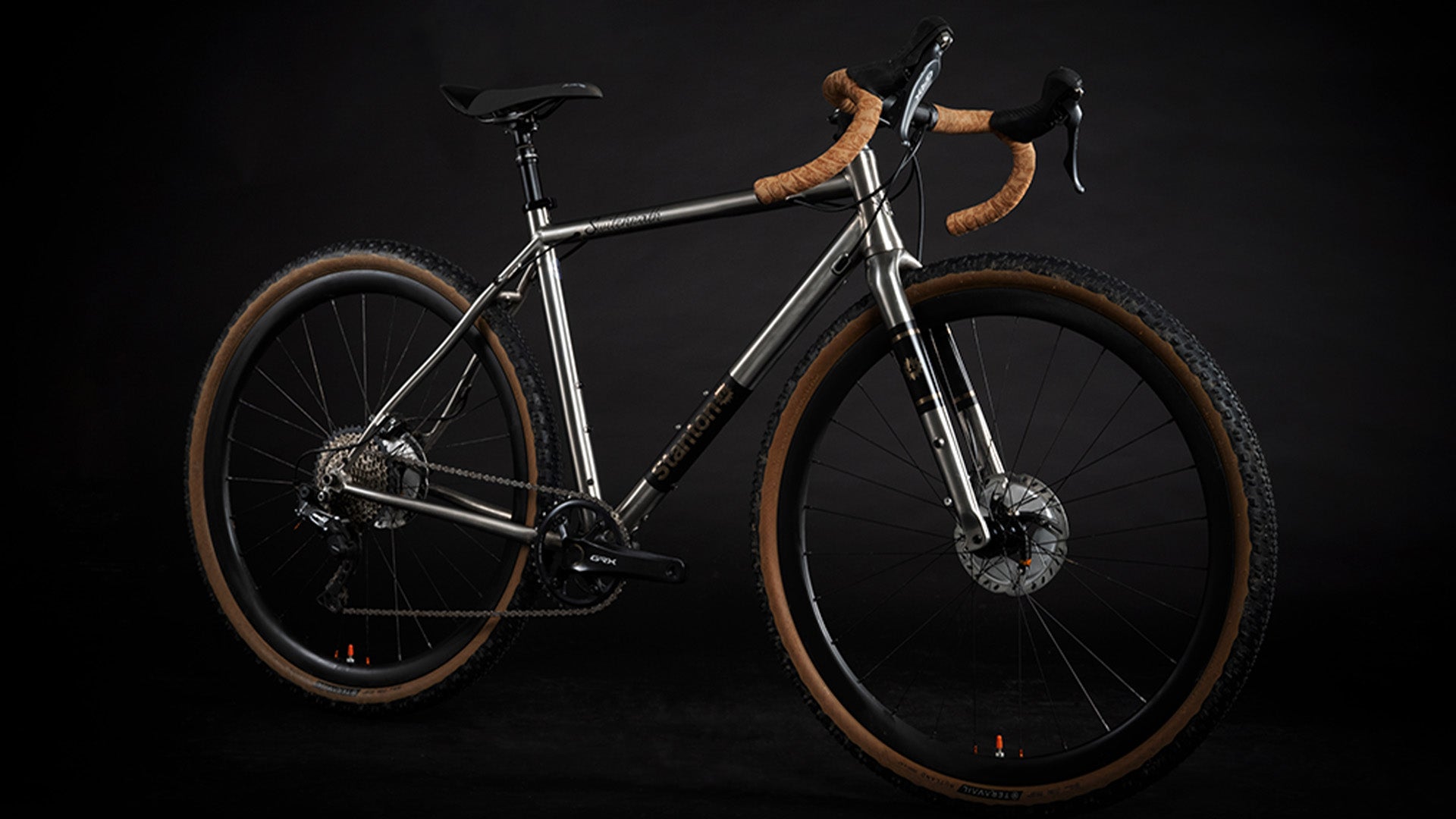 Gravel with a grin
Gravel, Groad, Grountain Bike..? The Switchpath Ti is quite possibly our most versatile bike to date. Capable of crossing continents, pulling turns at the front of the group ride and smashing down techy singletrack. It's classic 'build-it-how-you-want-it' Stanton goodness right here.
Go for a superlight dream build with carbon everything and skinny tyres, or stick on a dropper post and some chunky 650b wheels, this is a bike that will put a smile on your face with every pedal stroke.
Sweet spot geo
We've gone for a 70º head angle, 74º seat post angle, room for 700X47 or 650/2.1 tyres, and modest reach and standover figures. Keeping things fun and flickable when you want it but steady and predictable at the same time. Meaning you can still go further and faster but 'funner' too. Let's face it, in the 90's you'd have been racing downhill bikes on these measurements!
​We haven't just fussed over the geo numbers though. We've selected the right materials in the right places so you won't find any unwanted flexibility in the triple-butted, aerospace-grade Titanium frame. Put together by the finest fabricators we've ever found with welds that are as strong as they are satisfying to look at.
Why Ti?
​Light and stiff enough to keep up with carbon road bikes, but durable and tough enough to take a lifetime of grit, grime and rubbing bikepacking luggage. We believe there is no better material for a bike in this category.
You can pair it with our super lightweight carbon fork or our seriously special, unique to Stanton, titanium one. Making the most of Dan's superior understanding of the material and how to get the most from it. We like to see it as an example of how we don't just follow the herd but look for interesting, innovative, and engineering-led answers. The fact those answers also look insanely badass is what we're all about too.
​
All our frames are hand-finished at our Derbyshire HQ so you can choose the final look with blasted or ceramic Cerakote painted decals. Adding some unique beauty to titanium's famed hard-wearing, corrosion-resistant properties.
​With the Switchpath we've stuck to our principles and created something that fits with our gravity-inspired, playful philosophy – we like some grins with our grrr.
As usual, we've gone our own way with the Switchpath Ti so you can go yours.
Drool over the Switchpath Ti Dream Build
"A real success" - Read the Cyclist Magazine review
Stanton's approach is a real success. More than any other gravel bike I've ridden, this feels like a gateway drug to all-out mountain biking.

Cyclist Magazine
The Stanton Switchpath is a great riding bike. If you want that Titanium "ping" with great fast handling and a great looking frame to build your dream gravel bike around then the Stanton Switchpath Ti is definitely one to put on your list.

UK Gravel Co.com
Features
Triple butted, lightweight and robust 3AL 2.5V titanium frame
​Internal stealth cable routing 
​Dropper post compatible with 31.6mm seatpost diameter 
​Custom swappable dropouts 
​I.S. brake calliper mount with flat mount adapter for greater versatility 
​Fits 700X47mm or 27.5X2.1" tyres
​Lightweight carbon or unique Titanium fork options
Switchpath Ti frame-only prices:
3AL-2.5V titanium with blasted decals - £1999
Cerakote Heritage Wrap decals + £100
Anodised decals + £100
Switchpath Ti frames in stock now
Here are the fully finished frames we currently have in stock. These products are literally boxed up and ready to ship anywhere in the world within 2 working days from your order. Our stock is selling through quickly so if you don't see the finish that you'd like then just get in touch via email and tell us what you're looking for. We have plenty of raw frames in stock waiting to be painted just the way you want it!