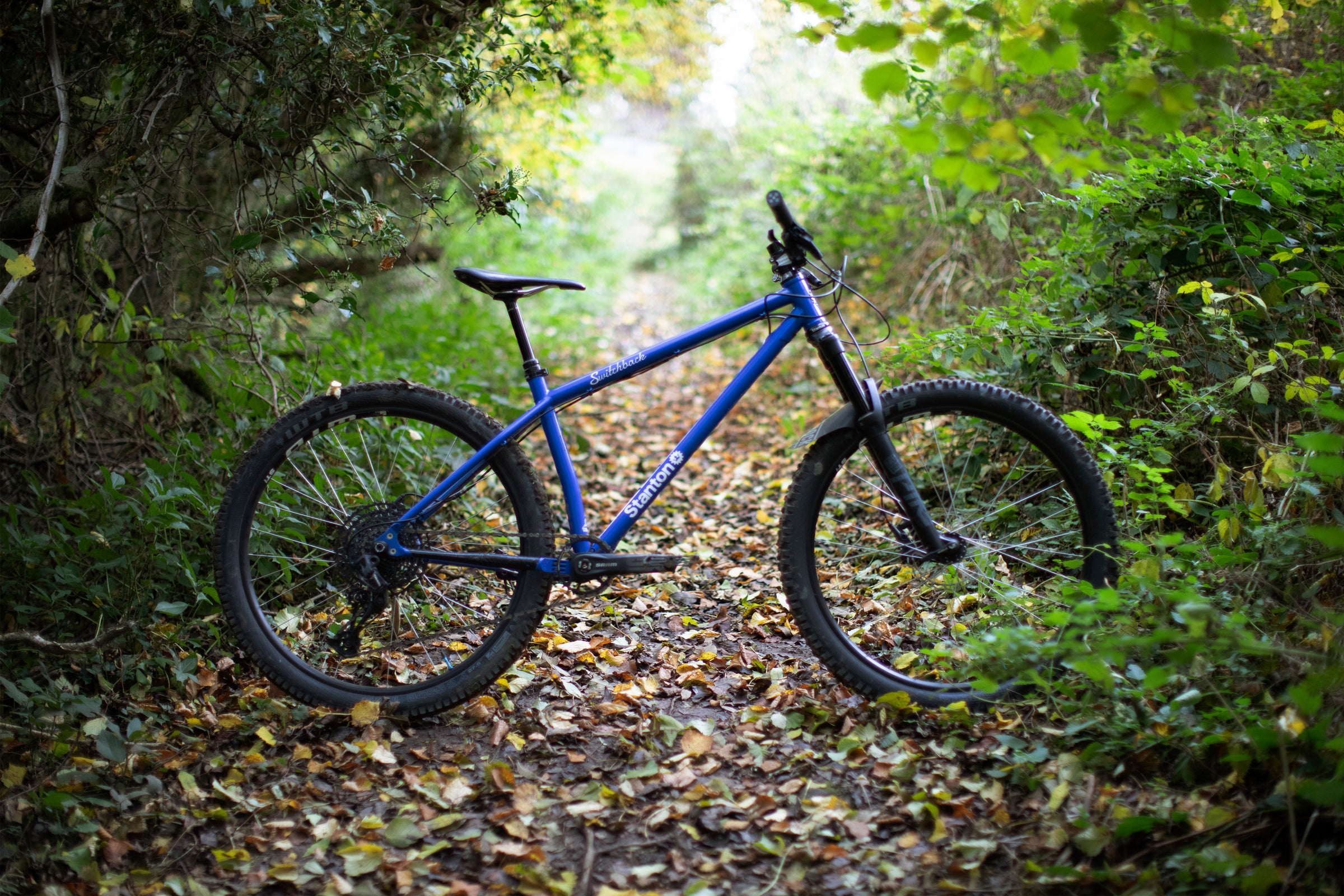 Welcome to 100% pure, undiluted Stanton.
Congratulations, you've figured out what riding is really all about – playing.
We've got good news for you – play is a serious thing (we've done the research so you can just tell your mates in the pub). It's not just how kids learn skills, judge risks and find joy, it's how us grown-ups do too.
When you stop playing, you start dying. Fact.
So, yes friends, you do need to dig that jump in the woods, you must try and gap that double in the bike park, and you're seriously risking your mental wellbeing if you don't have a whip-off with your mates at least once a month.
We were born to play, and so was the Switchback Gen 3 – the most playful hardtail on the market.
The model that's the inspiration for our entire Switch range, each positively engineered to 'switch' through the turns sharply, predictably and as quickly as you dare.
SHORT CHAINSTAYS + SMALL WHEELS = BIG FUN
Our CNC'd double yoke provides mega lateral stiffness at the end of those super-playful 415mm chainstays. We use cold-worked Reynolds 525 for the rear triangle and paired with the Reynolds 631 in the UK-made frame or 4130 in the Taiwan-made, it gives the responsive strength you want to push your limits, knowing the bike will always be there for you.
Available in 16.5" or 18", the sizing is all about maximising the fun too. The shorter seat tube gives you plenty of room to move and switch position, berm after berm after berm. Plus it will take a dropper post of up to 175mm so you can get way off the back for the hectic stuff.
Now in its third generation, the Switchback keeps all of its original character but has grown up just a little. We've added 1.5 degrees to the seat tube but kept the same virtual top tube. So 23mm has been added to the reach (and therefore the wheelbase), meaning it's super stable when you stick it on an edge and carry all your speed into a corner. You'll find it won't wipe the smile off your face on a climb either as the front stays more planted – better for those big days out.
TIGHT, NIMBLE, PLAYFUL – THE GEOMETRY OF JOY
"The Switchback does it all with stability and aplomb… the short chainstays and comparatively short top tube make it much more of a knife than a hammer." Singletrack Magazine
The Switchback puts you in command so you can stay off the brakes, press send and get your mates cheering. And when you maximise the fun everything else just flows – the skills, the speed, the confidence, the creativity, the fun and the freedom.
Let's play.
VIDEO – Tech Talk with Dan Stanton on the Switchback
Features
Reynolds 631 44mm head tube (fits all steerers), gusseted down tube and our super-sweet alloy head badge.
30.9 Stealth dropper-compatible seat tube (34.9 clamp) with internal routing round the BB and into the down tube.
Triple-butted Reynolds 631 DZB seamless; air-hardened down tube; top tube and custom swaged and butted Reynolds 631 seamless, air-hardened seat tube. Takes full-length gear outer for consistent, weather-proof shifting.
Super-short chainstays (415mm) made from cold-worked Reynolds 525.
Custom CNC'd Swapout dropouts (12 x 142, 12 x 148). Comes supplied with 12 x 148 as standard unless you specify different dropouts with your order.
Custom designed CNC'd yoke providing space for up to 2.8 tyres.
I.S.C.G 05 mounts for extra security!
Recommend fork travel: 140mm - 160mm
Switchback frame-only prices:
Asia-made 4130 steel / standard paint - £699
UK-made Reynolds 631 steel / standard paint - £999
Elite paint +£100
Heritage Wrap Decals +£100
Switchback frames in stock now
Here are the fully finished frames we currently have in stock. These products are literally boxed up and ready to ship anywhere in the world within 2 working days from your order. Our stock is selling through quickly so if you don't see the finish that you'd like then just get in touch via email and tell us what you're looking for. We have plenty of raw frames in stock waiting to be painted just the way you want it!