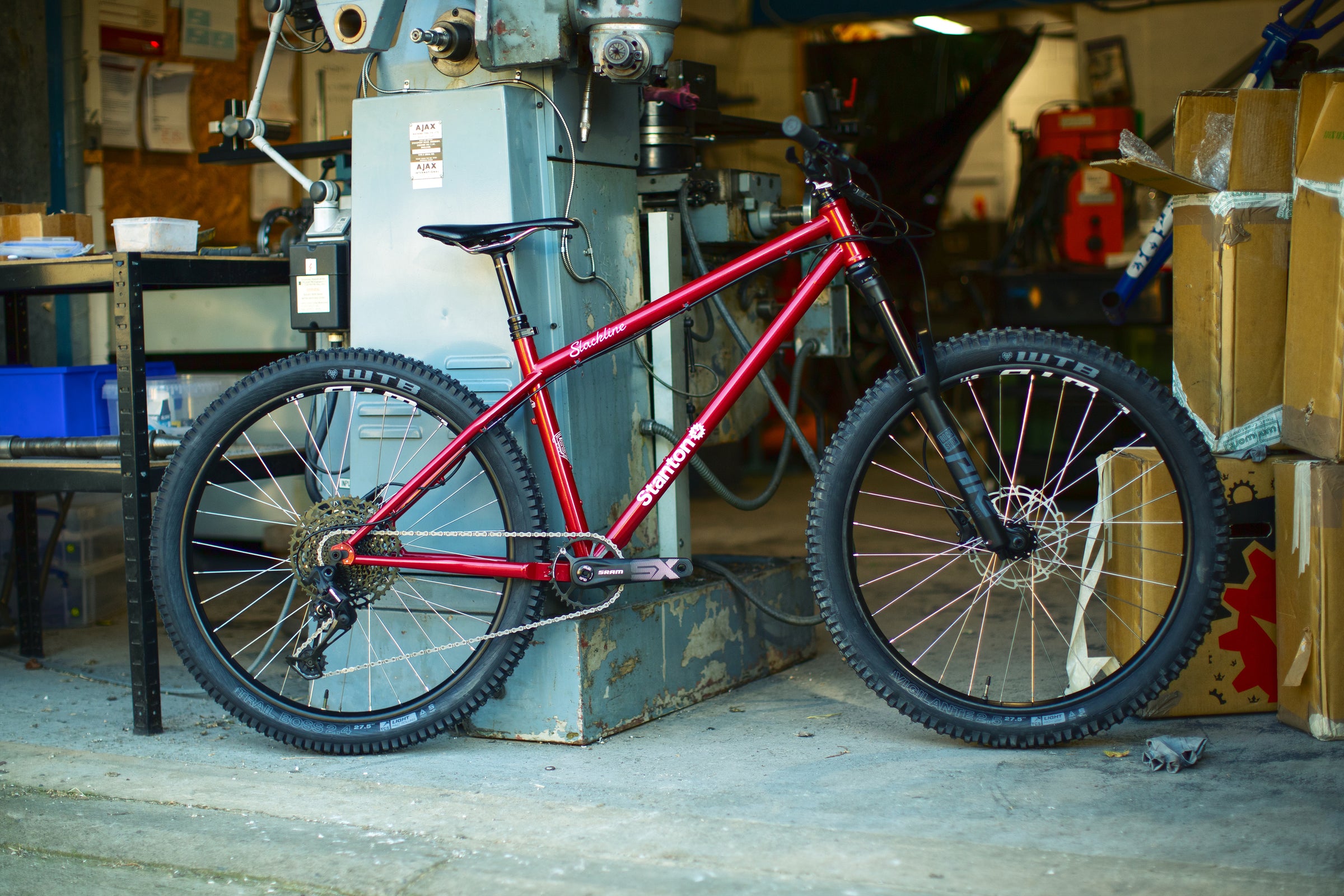 THE OG OF THE STANTON RANGE
NOW IN ITS GREATEST ITERATION. FROM GROOMED TRAIL CENTRE TO THE ROUGH STUFF IN YOUR LOCAL WOODS, THE SLACKLINE WILL HAVE YOU SKIPPING THROUGH THE LOT.
"Every now and then something special comes along" – that's how the Dirt Mag review for the original Slackline began in 2012. Now in its third generation and bang up to date it retains its reputation for having Goldilocks geometry. Not too slack, not too steep; not too long, not too short – but just right for every ride.
The Slackline is our all day trail slayer – the rider's ride. The choice of customers who've been there, ridden that, and know what they want.
So what do they want? Well the playfulness and control that comes from 27.5 wheels for start. Unswayed by the big-wheel hype Slackline riders know they can rely on it to put a smile in every mile. And as you know, fun is fast. There's no getting dropped by your mates on bigger wheels or full sus's.
PLAYFUL, PREDICTABLE, PERFECT.
The confidence and control will have you pushing harder than ever, but this thing is so nimble and direct it'll get you out of trouble as quick as you got there. It comes from the signature Stanton sweet spot of spring and stiffness with a lighter tubeset than the Switchback –  it's slightly rowdier cousin. Playful zing from the triple-butted Reynolds 853 or 4130 in the front triangle both matched with burlier Reynolds 525 in the rear. A meticulously worked out rear triangle at that, with a length that gives both stability and pop.
We can get that rear wheel in because of the bespoke CNC'd yoke on the drive side chainstay. This burly little number also adds the lateral stiffness that means every push on the pedals is rewarded with sweet acceleration. No more so than on a climb where this bike excels and scampers up the techiest test. The yoke has been completely redesigned for Gen3 to allow room for the big tyres we're all starting to feel the love for. It'll accommodate high volume 2.4" on regular rims or 2.8" tyres on super-wide 27.5 Plus hoops. The Slackline is also optimised for a 120mm – 140mm fork (our geometry figures include 25% sag) so you can really play with the style of bike you want to create.
"A great all-rounder that's not afraid to mix it with burlier builds through the tech" – Bike Radar
The 'do-it-all hardtail' thing has become a real cliché since the original Slackline helped create the category in the first place. We're more into the idea of 'do-what-you-like' and this is the bike that lets you. There's a simplicity and authenticity to what the Slackline delivers, a pure joy of riding that's appreciated by purist riders and those who just want to get the most from every ride – so that's everyone then.
Trends will come and go but there will always be room for a bike like the Slackline. Maybe it's time to make room for one in your life.
Features
Reynolds 853 44mm head tube with custom CNC'd logo top tube brace, gusseted down tube and our super-sweet alloy head badge.
30.9 fully stealth routed dropper-compatible seat tube (34.9 clamp) feeds round the BB and into the down tube.
Triple-butted Reynolds 853 DZB seamless, air-hardened and heat-treated down tube and top tube, and custom swaged and butted Reynolds 853 seamless, air-hardened heat-treated seat tube. Takes full-length gear outer for consistent, weather-proof shifting.
Short, tapered chainstays (427mm) made from cold-worked Reynolds 525.
Custom CNC'd Swapout dropouts (12 x 142, 12 x 148). Comes supplied with 12 x 148 as standard unless you specify different dropouts with your order.
New Custom drive side yoke creates spacing to fits high volume deep tread 2.4″ 27.5″ wheels or 2.8″ 27.5″+ tyres.
Recommend fork travel: 120mm - 140mm
Slackline frame-only prices:
Asia-made 4130 steel / standard paint - £699
UK-made Reynolds 853 steel / standard paint - £999
Elite paint +£100
Heritage Wrap Decals +£100
Slacklines in stock now
Here are the fully finished frames we currently have in stock. These products are literally boxed up and ready to ship anywhere in the world within 2 working days from your order. Our stock is selling through quickly so if you don't see the finish that you'd like then just get in touch via email and tell us what you're looking for. We have plenty of raw frames in stock waiting to be painted just the way you want it!