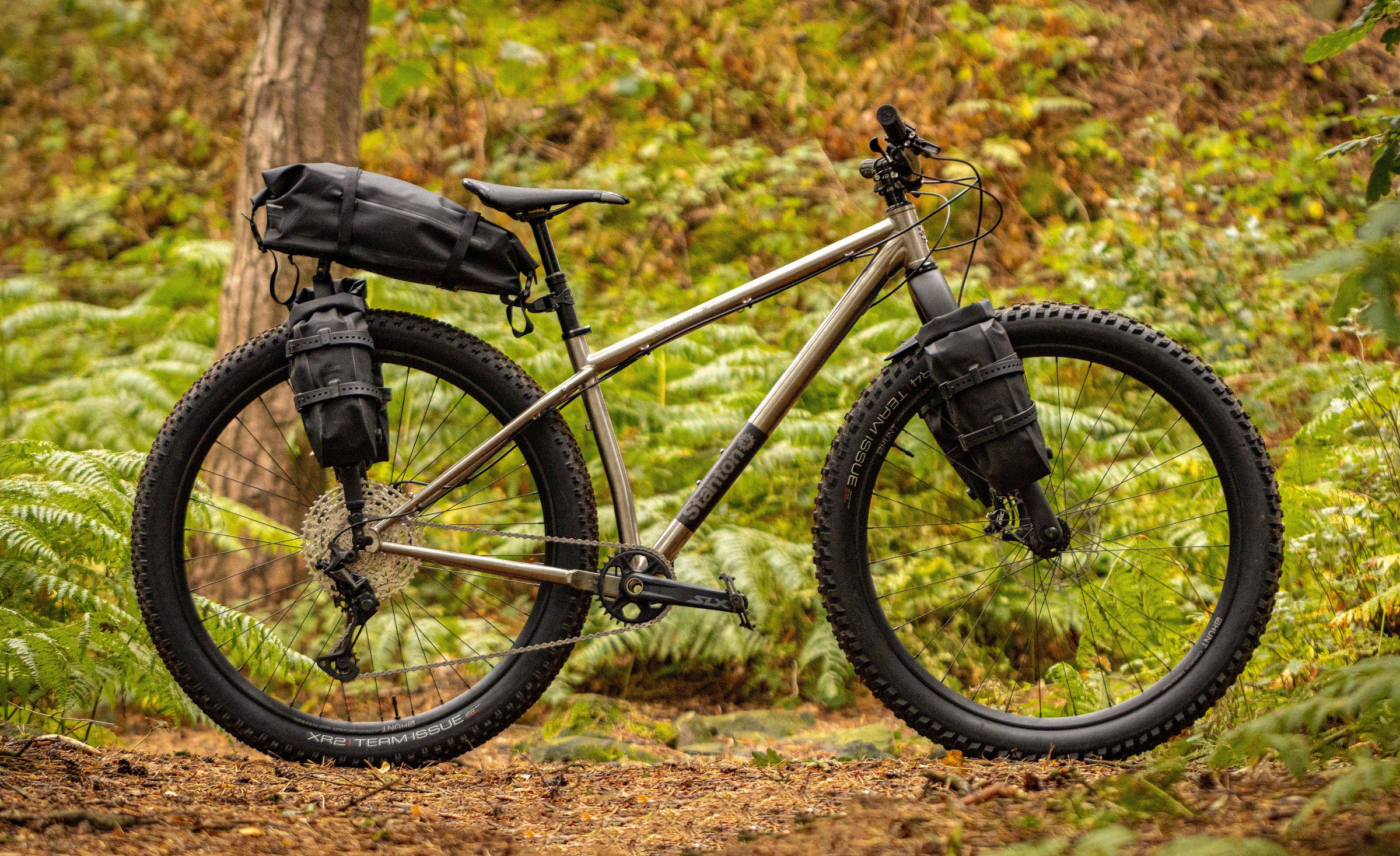 Think Bigger
You know those big plans you've always had? Time they stopped being just plans. We all have our own way of getting away from it all, from a spontaneous micro-adventure on the doorstep to a multi-day epic on the edge of the world. However you choose to escape you'll find The Sherpa Ti + is the perfect companion.
All the friend-for-life dependability and beautifully-engineered efficiency of the Sherpa, but now even more so. With the new Sherpa Ti + the only limit is your imagination. The biggest difference of course is the ability to accommodate 3" 29+ tyres, although you can happily run this with a standard 29 set-up too.
There's a completely new yoke design that joins slightly longer chainstays to the bottom bracket. CNC'd from a single piece of aerospace-grade titanium to provide strength, reliability and enable the pedalling efficiency that underpins all that's good about the Sherpa. Our focus on eliminating as much lateral flex as possible means less of your power is wasted. Every bit of your effort translates into immediate motion while feedback from the rough terrain is tamed by the same signature titanium tubing as the standard model – something you'll appreciate on those long days in the saddle.
Varying wall diameters put forgiving flex in just the right places meaning the legendary non-fatiguing properties of that magical metal will make you feel less tired too. We've tweaked the geo of the regular Sherpa in order to make it even more suited to long distance days. The head angle is a little steeper, the bottom bracket a touch deeper, and the reach a shade shorter. All keeping you more upright on the bike for a relaxed riding position that keeps your head up and eyes on that big horizon.
It also makes it more stable at lower speeds and when fully loaded, the shorter reach keeping your weight on the front end and those forgiving 3" tyres rolling in the direction you want to go. When you're on your own in the wild it's good to know you're on a machine that's made to keep you upright and out of trouble. You can build up your frame in multiple ways, designed around 120mm forks but it also works really well with a super light rigid fork to keep the riding experience as pure as the places you're heading.
Where you're going, you're going to need stuff.
Sure you want to keep it stripped down and simple but there's a certain amount of kit you can't do without. We've added more bosses to this frame so you can add panniers. The geo changes are made with bike-packing in mind and the effect on handling adding weight to the frame will have. The upright position and shorter reach making it easier to control and less likely to be unbalanced by luggage. We all have those pieces of go-to kit that we turn to every time. So well put together and fit for purpose that you wonder how you did without it.
We've created the Sherpa Ti + to be such a piece of kit. Made from our bespoke 3AL 2.5v titanium tubing and fabricated in Asia by the best workers of that material we've ever found, it won't let you down. Every frame is finished by hand, by us at our Derbyshire factory allowing you to choose from a range of decal options and add any personal touches you desire. Again, it's down to you and your imagination.
With the Sherpa Ti + you can do more, more often, more easily. What will you do with yours?
Features
Frame weight approx. 1.97kg (17")
​Downtube water bottle mounts
​Custom designed CNC'd Yoke to fit huge 29″ wheels with 3" tyres
​3AL-2.5V aerospace grade titanium custom butted tube set
Extra bottle bosses on the seatstays and chainstays for rear rack mounting options
​Tweaked geo to increase comfort on long days in the saddle and improve handling when loaded
​Swapout dropouts for 12X142 or 12X148 (boost)
​31.6 dropper post compatible with internal routing (34.9 seat clamp)
​Recommended fork travel 100 - 130mm